Australian Florals – Indigenous Classroom Decor
Aboriginal Art
Introducing a Remarkable Creation by Domica Hill: A Tribute to Australian Flora
We are thrilled to unveil a second stunning Indigenous Art Classroom Decor kit, Australian Florals; an exclusive masterpiece brought to life by Bass Coast-based Contemporary Aboriginal Artist, Palawa woman Domica Hill. This remarkable creation pays homage to the exquisite Australian flora, featuring iconic native plants such as the Golden Wattle, Waratah, Flowering Gum, Leucadendron, Banksia, and Protea.
Designed By An Indigenous Artist
Domica Hill, a proud Palawa woman, brings a deep cultural connection to her art. Her work highlights the beauty of Australian flora and serves as a powerful reminder of the enduring link between Indigenous people and the land. This artwork beautifully merges her contemporary artistic style with traditional elements, representing the ongoing connection between her people and the natural world.
Originally a secondary school teacher, Domica has spent the past two years working with Wanyara to teach Aboriginal and Torres Strait Islander games, art, dance, language, history, ceremonies, songs and stories to schools or businesses to build understanding and to embrace an Aboriginal perspective of our country.

This new creation is more than just a piece of art; it's a cultural treasure that speaks to the heart of Australia. By displaying this masterpiece, you not only embrace the artistic talent of Domica Hill but also honour the rich history and traditions of the Palawa people.
Australian Florals – Indigenous Classroom Decor
Utilise this Indigenous artwork within your classroom to enlighten your students about the magnificent Australian flora and its profound connection to Indigenous culture, showcasing the iconic native plants of Golden Wattle, Waratah, Flowering Gum, Leucadendron, Banksia and Protea.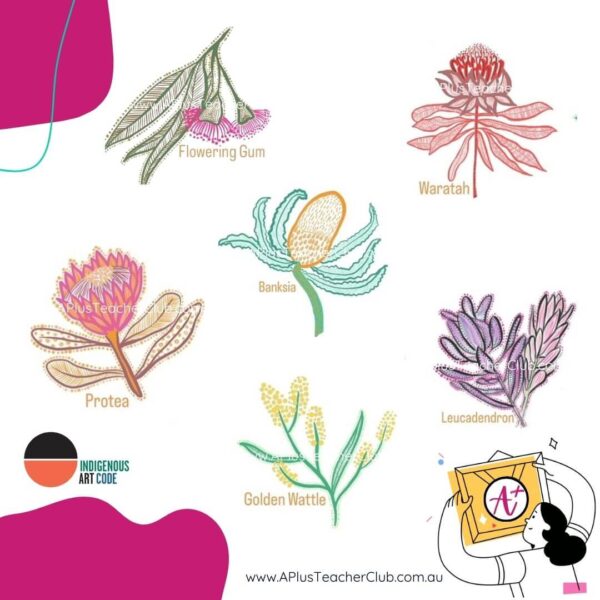 These 6 pieces of awe-inspiring artwork are a tribute to the lush and diverse flora that graces our continent. Domica's artistic expression captures the essence of Australia's unique plant life, showcasing its vibrant colours, intricate details, and the remarkable resilience of these native species. The piece is a visual symphony that celebrates the country's natural wonders, inviting viewers to immerse themselves in the splendour of our native blooms.
Golden Wattle – Acacia pycnantha, is Australia's national floral emblem, symbolizing unity and resilience. Its bright yellow, ball-like flowers are a vibrant burst of colour in the landscape. With deep roots in Aboriginal heritage, the Golden Wattle has traditional uses, such as its gum for adhesive and seeds for food. It's a symbol of endurance and strength, representing the diverse and ancient cultures of Australia.
Waratah – Telopea speciosissima, is a magnificent native flower found in southeastern Australia. Its striking red blooms resemble a vibrant flame and are known for their beauty and resilience. The Waratah holds cultural significance in Indigenous heritage, often symbolising endurance, healing, and connection to the land. This iconic flower is a symbol of strength and renewal.
Flowering Gum – Eucalyptus ficifolia is renowned for its vibrant, nectar-rich blossoms in shades of red, pink, and orange. This tree is essential to the ecosystem, providing food and shelter for many native species. In Aboriginal culture, the gum tree represents a source of nourishment and traditional healing practices, embodying the interconnectedness of nature and people.
Leucadendron – a genus of evergreen shrubs native to South Africa, is cultivated in Australia for its stunning foliage and unique cone-shaped flowers. While not native to Australia, these plants contribute to the country's botanical diversity. Their use in local landscapes reflects the multicultural fabric of the nation, symbolising unity amid diversity.
Banksia – a diverse genus of plants, showcases a unique range of flower shapes and sizes. These iconic Australian natives are well-adapted to the country's often challenging conditions, signifying resilience and adaptability. In Indigenous heritage, Banksia cones have served as tools and instruments, demonstrating the resourcefulness of Aboriginal cultures.
The Protea family, native to South Africa, features exotic and captivating flowers. These plants have been cultivated in Australia to add splendour to gardens. While not indigenous, Proteas symbolise the interconnectedness of global flora and Australia's welcoming embrace of diverse plant life. They exemplify the nation's commitment to preserving and celebrating unique botanical treasures from around the world.
We are so excited to have been granted permission by Meeka to use this amazing artwork in our teaching resources and hope you enjoy using them and sharing the story with your students too!
Check out Domica's artwork & follow her on Instagram @by_meeka
Indigenous Classroom Decor
Like the original Hunting 'Tara' Indigenous Art Classroom Decor kit our New Aboriginal Art Florals Decor Resources have been created so that you can add your own text using any font that you like! Which means they can be adapted to suit the needs of your kids. Of course, we have created a Fun font set too if you just want to print and go, it's up to you!
If you would like to try some fancy fonts we found a wonderful clip artist who shares their work, for free! Check out non-commercial fonts, for personal use, from KGFONTS
Or, you can even load your School Font to make them work for your State. Just download, and install it onto your computer, and you're all set!
If adding new fonts sounds way too technical you can actually use any fonts that are already on your computer, or just use the version of the pack that comes with a fun font! It's up to you!
In our Aboriginal Classroom Decor range, you'll find posters, banners, labels, numbers, birthday charts, and door signs, there are even numbers for your clock!
The classroom decoration resources are a mix of PDFs and PowerPoint files that are ready to print or edit. Just make sure you use the right software to open and print the files (not your browser).
Hopefully, these neutral Aboriginal classroom decorations will help save you a ton of time setting up your classroom displays ready for back to school this year.
As we have so many resources in this range we have organized them into 3 collections:
Indigenous Classroom Decor – Maths
Indigenous Classroom Decor – Literacy
Indigenous Classroom Decor – Classroom Organization
Click the images to start downloading your exclusive "Australian Floral" Indigenous Art Classroom Decor Resources.
Indigenous Classroom Decor
Can't find what you're looking for?
Send us a request! Use this form to request a resource. Please give details of the learning area, topic, year level, curriculum links. We'll be happy to take a look to see if we can fit it in. Unfortunately a request does not guarantee we will be able to make it!
"*" indicates required fields