Aboriginal Classroom Decor
Aboriginal Art
This Aboriginal Classroom Decor Kit has been exclusively created by Bass Coast-based Contemporary Aboriginal Artist, Palawa woman Domica Hill. The natural neutral tones of this piece titled 'Hunting Grey Kangaroo' or 'Tara' are perfect for adding authentic contemporary Aboriginal art and design to any classroom.
These Aboriginal Classroom resources have been created with Meeka's exclusive artwork that celebrates the cultural history of the Palawa Mob. The elements and the story of hunting 'Tara' highlight the special connection to Country/Place as well as celebrating the unique belief systems that connect people physically and spiritually to Country/Place.
Designed By An Indigenous Artist
A proud Palawa woman, Meeka creates contemporary one-off Aboriginal Art that celebrates her cultural history in a unique and subtle way.
Originally a secondary school teacher, Domica has spent the past two years working with Wanyara to teach Aboriginal and Torres Strait Islander games, art, dance, language, history, ceremonies, songs and stories to schools or businesses to build understanding and to embrace an Aboriginal perspective of our country.
Through this cultural education program, she has combined her teaching and creative skills to enlighten students all over Victoria about the history of Aboriginal Art.
This path found her exploring symbols and stories from past ancestors, the Palawa mob and she is now using her talent to extend this into her own works, utilizing a contemporary style combined with some traditional elements to tell stories of the surrounding country she lives on.
The essence of the story of hunting Tara (hunting grey kangaroos) is; some hunters go out to hunt for kangaroos. They find them down by the running water while walking along a track that leads to a ceremonial meeting place.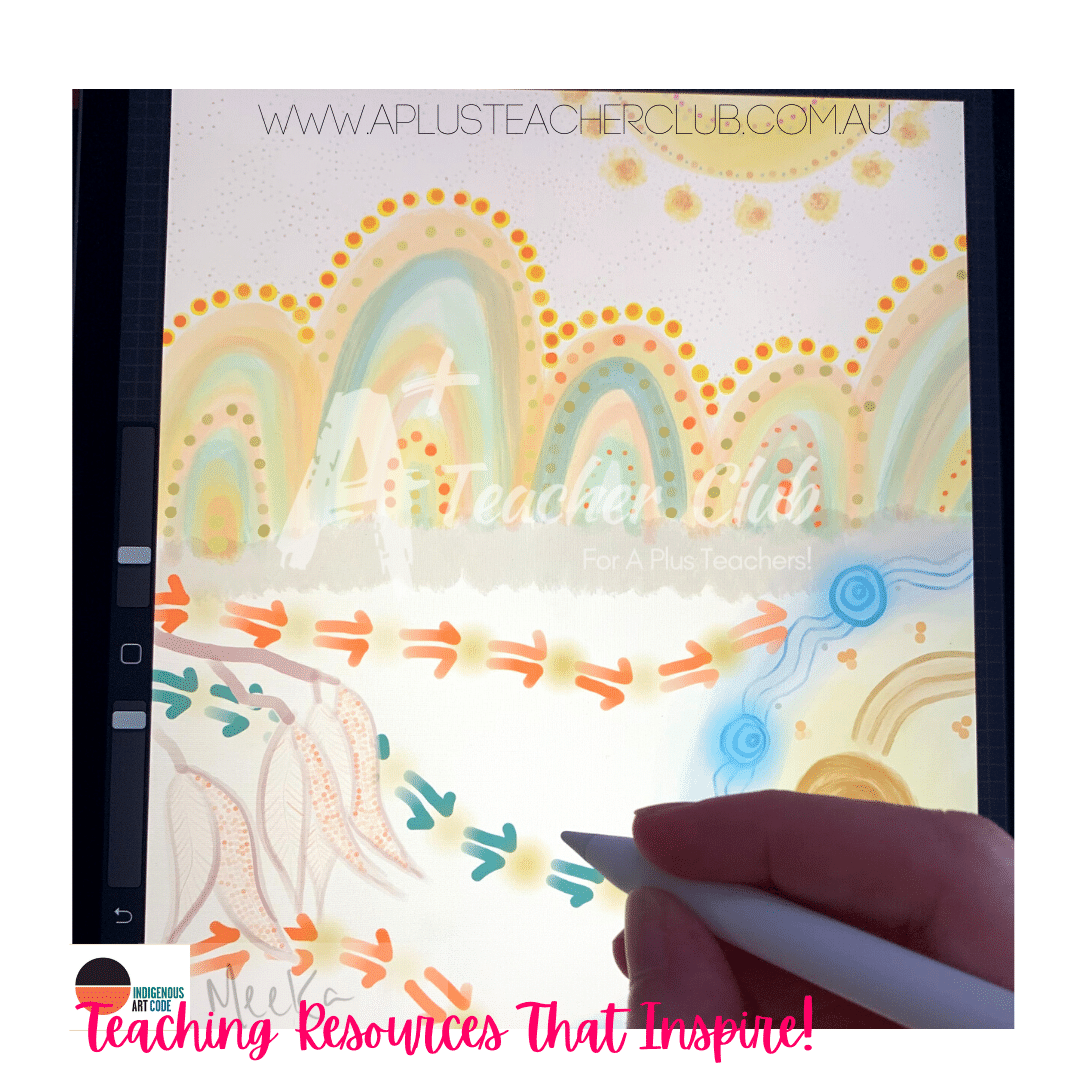 This Aboriginal artwork can be used in your classroom to educate your students on storytelling and Aboriginal symbols including symbols for:
walking track
waterhole with running water
man with spear
kangaroo tracks
meeting spot
sun/star
rainbow/hill
We are so excited to have been granted permission by Meeka to use this amazing artwork in our teaching resources and hope you enjoy using them and sharing the story with your students too!
Check out Domica's artwork & follow her on Instagram @by_meeka
Indigenous Classroom Decor
Like our Watercolour Rainbow Classroom Decor kits our Aboriginal Art Classroom Decor Resources have been created so that you can add your own text using any font that you like! Which means they can be adapted to suit the needs of your kids. Of course, we have created a Fun font set too if you just want to print and go, it's up to you!
If you would like to try some fancy fonts we found a wonderful clip artist who shares their work, for free! Check out non-commercial fonts, for personal use, from KGFONTS
Or, you can even load your School Font to make them work for your State. Just download, and install it onto your computer, and you're all set!
If adding new fonts sounds way too technical you can actually use any fonts that are already on your computer, or just use the version of the pack that comes with a fun font! It's up to you!
In our Aboriginal Classroom Decor range, you'll find posters, banners, labels, numbers, birthday charts, and door signs, there are even numbers for your clock!
The classroom decoration resources are a mix of PDFs and Powerpoint files that are ready to print or edit. Just make sure you use the right software to open and print the files (not your browser).
Hopefully, these neutral Aboriginal classroom decorations will help save you a ton of time setting up your classroom displays ready for back to school this year. Click the images to start downloading your exclusive "Hunting Tara" classroom decor resources …
We Are continuing to add more resources to this range. Keep checking back to get them all!
As we have so many resources in this range we have organized them into 3 collections:
Indigenous Classroom Decor – Maths
Indigenous Classroom Decor – Literacy
Indigenous Classroom Decor – Classroom Organization
Just click the images below to start downloading!
Indigenous Classroom Decor
Can't find what you're looking for?
Send us a request! Use this form to request a resource. Please give details of the learning area, topic, year level, curriculum links. We'll be happy to take a look to see if we can fit it in. Unfortunately a request does not guarantee we will be able to make it!
"*" indicates required fields