Planning Resources
If you're looking to get to grips with the Australian Curriculum but don't want to reinvent the wheel you're in the right place! Get super organised in double quick time with our Australian Curriculum Planning Templates. Editable or print-and-go, use our popular forward planning overviews, term planners & lesson planning templates to make your planning easy. Available for all learning areas and year levels from Kindergarten to Year 6.
Our Planning Templates (for Australian Teachers) puts the Australian Curriculum, Content Descriptions, Achievement Standards and Elaborations at your fingertips. No need to spend hours clicking through websites to find what you should be teaching with these form-fillable templates, Teachers can organise the curriculum, plan explicit lessons and list every activity and resource for the term or the whole year all in one place! All you need to do is decide  which format to use!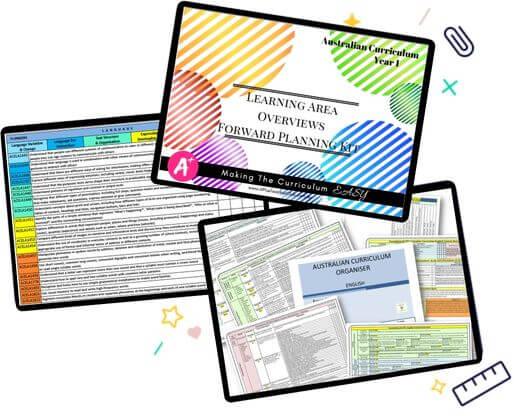 Select a tag to fetch collections
Can't find what you're looking for?
Send us a request! Use this form to request a resource. Please give details of the learning area, topic, year level, curriculum links. We'll be happy to take a look to see if we can fit it in. Unfortunately a request does not guarantee we will be able to make it!
"*" indicates required fields